Having finished the year on a Blue Note high, it is now 2019, and LJC is off at a tangent again, on a lost gem from British jazz in the '60s, which by a strange turn of events saw its first issue at the end of last year, on a record label from Norway. No, that's not a typo. Norway. What the fjord's that all about? Find out, read on.
Selection: Nothin' Yet
. . .
Artists
Ian Bird – tenor, alto sax; John Curtis – trumpet; Ray Shea – piano; Daryl Runswick – bass; Tim Woolley – drums. Recorded January 19, 1969, at Tony Pike Music Studios, Putney, London UK, restoration and mastering engineer for Jazzaggression release, Colin Young. Original engineers – chief engineer David Stephens, mixer Roger Harris.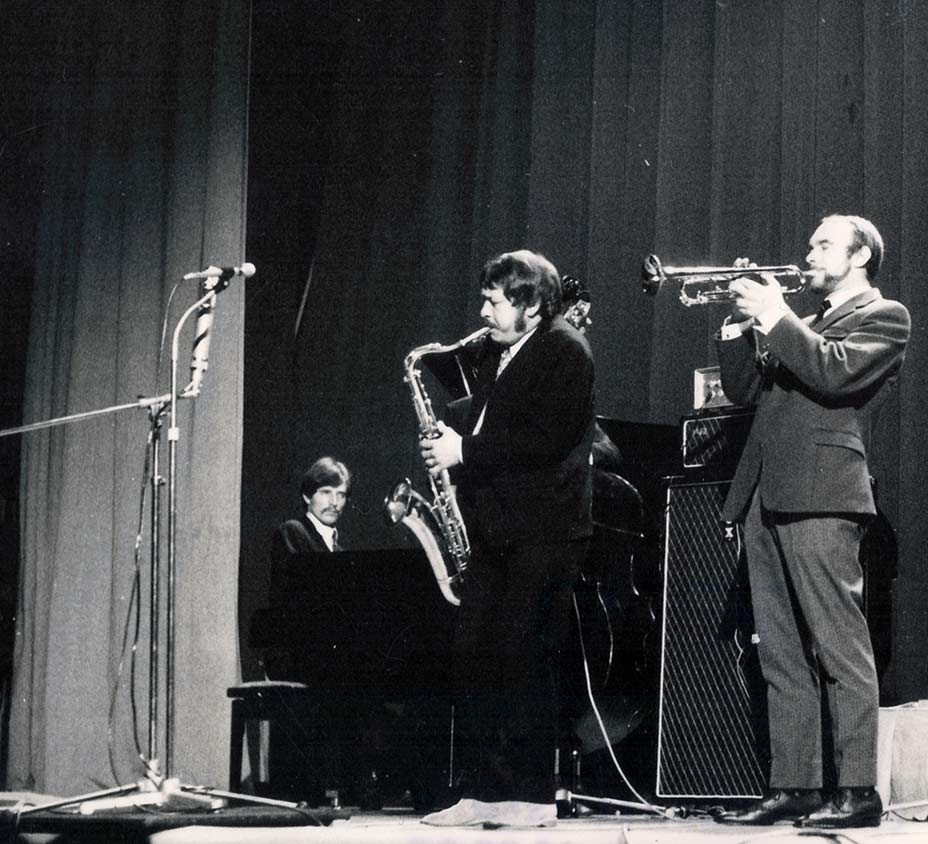 Discovery of a Fifty Year Old Recording (another?)
We have had a run of "newly discovered" vintage recordings recently, some good, some less good (to be honest, lovely packaging but substandard recordings or substandard material) : Coltrane's two directions at once, Eric Dolphy studio session outtakes, Adderley live in 60's Seattle, and now an unissued recording of a band you are unlikely to have ever heard of. Doesn't sound promising, but stay with me.
Jazzaggression is a little mysterious Norwegian record label run by one Fredrik Lavik, founder of the Afro 7 label and among other things an archivist of East African music profiled here by Superfly . How is it Superfly knows everything? You knew of course. In contrast, I had absolutely no knowledge of this label until now, adding it to my short list of quality rare jazz reissue houses, along side Jazzman., also profiled by Superfly. I knew even less about a Sixties British jazz group called The Bird Curtis Quintet.
Approaching Christmas up in London and on the prowl for records, at the behest of the record shop Jazz-DJ proprietor, I spun some of his recommendations. Four or five discs later, nothing had really hit the spot. I don't do singing (What? No singing (DJ shakes head)). No, n electric piano please (DJ: but..but..Hancock..(shakes head, again) and no harpsichord (DJ: me neither). I can usually tell within a few bars  if something is in my metier. Having my antipathy to a lot of modern vinyl reissues confirmed,  I put the final recommendation on the turntable, with no expectation of what came next.
Yes!  Yes!!
That's it! Thumbs Up to the DJ! That's my thing! I love it. Bird Curtis? Jazzaggression?  Who? Blank. Don't know anything about this but It's got that sound, which I crave.
I'll take it.
JazzAggression Records pick up the story of Bird Curtis Quintet
"British jazz pianist Ray Shea had been meaning to clear out his loft for years. Turns out it's very fortunate that he didn't…Languishing forgotten in a dusty attic for 50 years, 'Needs B' is the previously-unknown second recording by cult British modern jazz outfit the Bird Curtis Quintet. A landmark recording from the golden age of 1960s British jazz, the album is here issued for the first time ever by Jazzaggression Records.

It all started with a chance conversation. Following Jazzaggression's highly acclaimed 2014 reissue of the super-rare self-titled first album by the Bird Curtis Quintet, Jazzaggression's Fredrik Lavik was talking to the band's pianist, Ray Shea. "I'm delighted to hear how well the first LP has been received," said Ray. "Of course, you know we recorded a second album, don't you? The label went bust before it came out. I think there's a test pressing of the LP in my loft somewhere." Stunned, Fredrik put down the phone and checked with a roster of serious British jazz collectors. No one was aware of its existence! Quick calls to the other band members confirmed that the recording session had indeed taken place, in 1969.

A month after that phone call, the LP having been duly located in Ray's loft and safely dispatched, remastering work began to restore this minor masterpiece to its rightful place in the British jazz canon. The cover artwork is also taken from another treasure from Ray's attic: an original Bird Curtis Quintet concert poster. In all it's taken 2 years of effort to prepare the album for its world premiere.

Reflecting on the recording half a century later, Bird Curtis Quintet bassist Daryl Runswick says "Looking back half a century is a strange thing. What were we like, we young turks? Were we ambitious? Were we ready to change the world? British jazz was going through an absolute golden age. This music stands with the best of that. We were young turks, we were ambitious, and we were part of a movement that was changing the world."

Jazzaggression's Fredrik Lavik says "it's been a privilege to work on this exciting project with such eminent musicians as Daryl, Ray, John, Ian and Tim and to be able to finally release a forgotten British Jazz classic to the world after 50 years!'

On 13 November 2018 'Needs B', the Bird Curtis Quintet's unknown second album, will finally see the light of day, 50 years since it was recorded. Good thing Ray never got around to clearing out that attic…"
Where Are They Now?
 Ray Shea, pianist, whose attic finally gave up the unissued Needs B recording, performed the Swanage Jazz Festival last year ( Swanage, Dorset, English south coastal town halfway between but not near Plymouth and Canterbury) in a quartet called "Not Just Sax" (Sarah Bolter, sax), possibly a friendly effort to differentiate themselves from my  beloved reincarnation of Tubby Hayes, Simon Spillett, who also played the same Festival.
Daryl Runswick – pianist, composer, arranger, conductor, singer, record producer, broadcaster, educator, and bass virtuoso – now in his early 70s, still performing and recording, he also sports a huge silver beard and pony tail. I tell you, 70 is the new..um ..65. Interviewed for Meet-The-Artist, asked his most memorable concert experience, Daryl recalled this nice story, which I will reproduce here as links too often disappear over time:
"What is your most memorable concert experience?"
"Years ago, on a beach in the South of France, a morning rehearsal in the open air. Sonny Rollins's backing group were noodling, tuning up, waiting for him to arrive. All at once from a dune 100 metres away the strident tones of a tenor sax rang out. Rollins strode toward the stage, playing all the time. The band picked up the tune and suddenly it was cooking. Rollins didn't take the mouthpiece out of his mouth for 20 minutes, playing fiercely, more and more intense, wilder and further out, until he just stopped and walked away. I turned to my friend the drummer John Marshall and said, let me die now."
Ian Bird, saxophone, was a veteran of the Jazzhouse Club at The Green Man pub, Blackheath, South East London, in the early 60s.  On jazz nights the resident band , the Ian Bird Quintet or Sextet (Trevor Tomkins on drums (which Lansdowne miss-spelt Tomkin), currently gigging with Simon Spillett) played  the first half, joined by a name-guest soloist such as Tubby Hayes, Ronnie Scott, or Don Rendell, for the second half. (Much to my regret I knew nothing of this at the time) My last reference found,  Bird is with us but in poor health.
John Trelawney (Curtis), trumpet, plays currently  in The Deux Johns Orchestra, a sextet which obviously sports another John. Formed in 2011, it is" one of the top jazz outfits in the south, according to their billing at the Eastbourne Theatre. Eastbourne is also not near Canterbury, near lots of other places, though Plymouth isn't one of them.
Tim Wolley, drums,  possibly, Tim Wooley, or Tim Woolly,  victim of internet disappearance due to Norwegian proof-reading error, status currently unknown. If you are out there, Tim, give us a sign. Any language.
UPDATE! he has given us a sign! It's Woolley. Tim Woolley, now a drum-tutor in Australia.
Music
Strong original compositions and arrangements stepping seamlessly out of the Sixties modern jazz playbook. They feel precisely of their time, stylistically confident, no avant/free jazz, soul-jazz or rock fusion bent, nor do they follow in the ethno/classical-exploratory direction of Rendell-Carr Quintet. Just classic-era  modern jazz,  acoustic instruments moving air, played with unexpected authority, a band never heard of.
Modestly claiming to be a "pub band", to which I  say "some pub!" –  Barnes, Blackheath and..um..Croydon. Two out of three's not bad.. Bird's saxophone and Curtis's trumpet weave the melodic constructions over a classic rhythmic canvas. Solos flow easily, and the playing is first class. Curtis has shades of Ian Carr and a touch of Freddie Hubbard, and that's the best compliment I can give.  The saxophone has so many masters it is nigh-impossible to better, but Bird has an individual voice, and plays delightfully. The real star of the show  is not the solo heroics, but the compositions.
Composer credits are mostly down to bassist Daryl Runswick, the only name I was actually familiar with.  In a lot of jazz, the heads are a perfunctory portal to extended group improvisation, get the tune over with and get on to the blowing, bring it back when you're done. When other people's tunes are often a distant memory, every song here is an "ear-worm"  which will be still burrowing inside your head for weeks. Not just one, all of them, right now it's crowded in there.
Vinyl
Dead-wax pictured simply for completeness, as it does not appear to have any significant indication of identity or origin, first I have seen "blank".
The sound quality is exceptionally strong, usually an indication of the quality of the original recording, at Tony Pike's Teepee Studios,  operational between the late 60's and early '70s. For the benefit of any engineers, Teepee Studios was kitted out with Echo -2 spring 2 plate; custom console- 16 input 4 output, Mikes – AKG, Beyer, Sure, STC tape recorders; Scully and TRD 4-tr, Leevers Rich 2-tr, 1tr. Hourly studio rate (1972)  £8.50. If any of that meant anything to you, you are welcome. I clocked only the Scully. RVG!
This is a transfer from a test pressing, so there must have been some jiggery pokery to get it back on to vinyl, and it comes with a CD and download code, but it is a good job, very well done, and is not available in any previous original vinyl, as this is its "first pressing" first commercial release.
Sorry for leaving the shrink, but one day this may be important. As they shreik on Ebay, Shrink!
Collector's Corner
This Bird Curtis Quintet's second album was issued by Jazzaggression Records at the end of last year.
The first and only Bird Curtis Quintet recording actually released was in 1967,by Tony Pike, which is considered one of the Holy Grail collectables in British Jazz. Only 100 copies were pressed, only mono. and thus far only 9 have come to auction, ever, an interesting statistic in its own right. When someone claims something to be "rare", ask for the measure, "how rare, can you  put a figure to it?"
This little baby sells on Ebay for around £800, if ever you saw it, but you would be one of just a handful of people who own a piece of history. Which makes it all the sweeter that Jazzaggression also reissued the first title too. However copies appear to be almost as scarce, possibly it's a limited edition thing. A  review forthcoming.
Ephemeral but quality music, worthy of attention, but given little attention in the mainstream media. If you can add anything to the story please do. Keep the jazz flame alive. Are you a witness to any of the South London Jazz scene of the '60s?
(LJC Sceptics' Footnote: independent review, retail purchase,  no inducements offered or received. )